An accident of any kind can be a very frightening and stressful experience, but accidents with large trucks are even scarier and more worrisome. Luckily, there are some techniques that help drivers avoid these types of accidents.
Keep reading for five tips to help you avoid colliding with a truck.
5 Tips
1 – Stay Away From the "No-Zones"
Trucks have a lot more blind spots than passenger vehicles do. Review the graphic below from the Federal Motor Carrier Safety Administration (FMCSA) for a visual representation of commercial trucks' blind spots.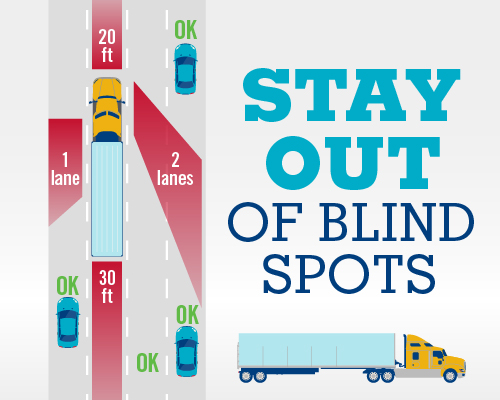 2 – Be Careful When Passing
Trucks can't stop as quickly as passenger vehicles, so take caution when maneuvering around them. Keep the following in mind when passing a truck:
Don't pass a truck going up or downhill.
Only pass on the left.
Don't merge in the lane in front of a truck unless you can see the driver in your rearview mirror.
If a truck passes you, stay to the right and slow down.
3 – Provide Clear Signals
Give the truck driver plenty of time to anticipate your actions. Turn on your signal before you think you need to so the trucker has plenty of time to adjust their behavior to accommodate you.
4 – Don't Crowd Trucks
Don't drive near a truck for too long. The following are just a few reasons why it's dangerous to drive alongside trucks for an extended period of time:
Tire blowouts

A portion of the blown tire could sail into your windshield.

Sudden braking

If a truck has to come to a panic stop, your car could slide underneath the truck or the truck could topple over.

High winds

Trucks can rollover due to high winds.
5 – Take Caution When Merging
If traffic is slowing down to a stop, it's best not to merge in front of a truck. It takes much longer and a lot more space for trucks to slow down, so you don't want to be in the way of a truck that's struggling to stop.
We're Committed to Our Clients
Here at Benoit Law Firm, PLLC, we're highly skilled in the area of truck accident personal injury law. We have helped hundreds of other people just like you achieve justice, and we may be able to help you, too. Don't delay—contact our office with your case right away.
Call the Charlotte lawyers at Benoit Law Firm, PLLC today at (877) 600-7212 to speak with an attorney about your personal injury case.